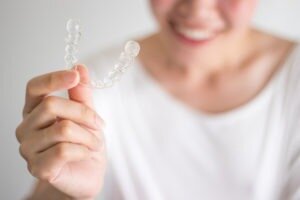 You want to get straighter teeth to build a smile everyone will notice, but you don't want anyone to know about your efforts to get that brilliant smile. So, the solution seems clear: go with Invisalign® invisible aligners.
The choice to go with Invisalign is a commitment and you'll have to stay faithful to your treatment plan for it to work. So before you make that commitment, these are five key things you should know beforehand.
One: You'll Have to Wear Them Most of the Day
That's right. As cool and casual as they may feel when compared to traditional metal braces, invisible aligners still have a job to do. You'll need to wear them at least 20 hours out of the day.
Two: They Take a Little Getting Used To
You have to take them out before drinking hot and really cold beverages, otherwise you could warp them and require another set of trays. Do you like a hot coffee or tea at the start of your day? Be sure to account for the time you'll need to pop your aligners out, brush them, brush your teeth and then put them back in.
You'll also have to be wary of beverages that can stain your invisible aligners – they aren't exactly invisible if they're stained.
Three: It May Not Be as Fast as Metal Braces
For more serve teeth alignment cases, metal braces may be faster and more appropriate. And for people who don't trust themselves enough to consistently keep their Invisalign in, metal braces are the better choice – you can't take them out whenever you want.
Four: People Really Do Have a Hard Time Spotting Them
Yes, they really are hard to spot. Your secret will be safe, as long as you don't stain or warp your trays.
Five: They Work Really Well
For most teeth alignment issues, even a lot of the more severe cases, can be corrected with Invisalign. Treatment times typically run about a year, but many people are able to complete their Invisalign plans in half that time.
Keep This Conversation Going
Click here to schedule an appointment with a local dentist to learn more about getting Invisalign in Stuart, FL.