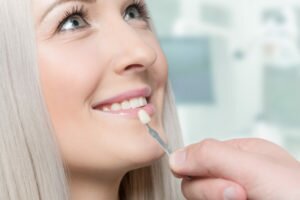 One of the more popular cosmetic dentistry procedures people undergo are veneers. At our office in Stuart porcelain veneers are offered as a great option for a lot of people, as they brighten teeth and fix imperfections. They are also not a very in depth procedure to go through, so healing time is limited.
Veneers are made of a layer of porcelain, that is laid over your real tooth. Veneers can be colored to any shade you prefer and fit your mouth like your natural tooth. While they look identical to actual teeth, they improve the aesthetics of a smile. Veneers are used typically to get rid of staining and aging that develop on teeth, and allow you to achieve the flawless look you are looking for. Because veneers go over the tooth, they provide a more permanent way to create a whiter smile than simply whitening your natural teeth.
If you are searching for a way to fix minor imperfections in the teeth, have a chipped tooth, or are looking for a more even bright smile, veneers may be the treatment you are searching for. Set up a consultation with your doctor to find out more about veneers and the procedure that comes along with it. At your first appointment, you will be able to talk to our cosmetic dentist in Stuart more about what your goals are in going through this treatment.
When you decide veneers are what you're looking for, Dr. Sohl will make the perfect fitting set. Keep in mind that this can be a relatively cheap procedure if you are only having a few veneers put on your teeth, and on the contrary, could be quite expensive if you want a whole set.
It is always important to discuss the idea of cosmetic dentistry with Dr. Sohl before jumping in. After all, there may be other routes that you could take that you were not aware of. Having beautiful teeth is a great way to boost confidence. Schedule an appointment with your doctor, as they will be able to provide you as much information as you may need.