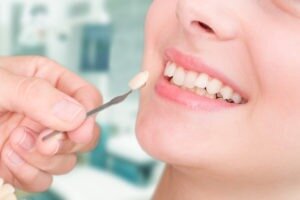 Hollywood's secret to brilliant white smiles has long been out, now that porcelain veneers in Stuart are now widely available and affordable enough for the masses. But if you're interested in permanently covering up cosmetic issues with your teeth with veneers, it helps to know if porcelain veneers actually one of the best options for improving your smile or if you should take another route. So to help make that determination, check out these use cases in which porcelain veneers shine as brightly as your smile will.
Discolored Teeth
Perhaps the most popular use case for veneers is covering up stained teeth that stubbornly resist whitening efforts.
Using these thins bits of porcelain, Dr. Sohl will shave a thin layer off of the fronts of each tooth that'll be enhanced. The fronts of the teeth will be left a little rough to help the veneers adhere to them permanently. The result: the visible surfaces of your teeth look perfectly white, giving you a flawless smile.
Crooked Teeth and Gaps
For teeth that are mildly or moderately crooked, dental veneers can work beautifully to cover up those imperfections and project your ideal smile. Veneers can also help hide gaps between teeth.
You don't have to commit to a full set of veneers to correct a few issues with the appearance of your teeth. You can get as many or as few of your teeth fitted with veneers as you'd like. If you aren't getting a full set of veneers and your teeth aren't a perfect white, Dr. Sohl can match the color of your veneers to the rest of your teeth.
Chipped Teeth
Veneers also work great for covering up minor chips in your teeth. Major chips and breaks will likely require a dental crown or tooth replacement, however.
Keep the Conversation Going with a Local Dentist
Learn how much value dental veneers could bring you personally. Contact us to schedule a conversation with a Stuart dentist to learn more about your options for getting veneers in Stuart, Florida.